Lipid biosynthesis from oleaginous yeast
"Influence of acetate as main carbon source for lipid production via oleaginous yeast fermentation" is the title of the scientific poster presented by CARTIF at the 2nd Greenering International Conference in Valladolid (Spain), 21st-23rd March 2023.
The poster shows the BioSFerA's research on the use of acetate as main carbon source for the production of triacylglycerides (TAGs) using the oleaginous yeast Yarrowia lipolytica. CARTIF, as leader of the WP3 activity dedicated to the biological step, reports methodology and results of the several trials performed to analyze the acetic acid as carbon source and the different fermentation conditions characterizing the lipid production step. Main results of this research, where also BBEPP and CSIC were involved to, is the identification of the Y. lipolytica as a promising biotechnological tool for lipid generation using low‐cost acetate media as substrates.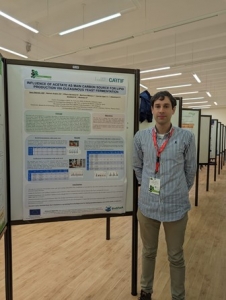 Jose M Sanz Martin, Researcher at CARTIF and leader of the biological step's research activity in BioSFerA
https://biosfera-project.eu/wp-content/uploads/2023/03/Untitled-postercartif.png
785
1277
Monica Risso
https://biosfera-project.eu/wp-content/uploads/2020/09/logo_colori.@2x.png
Monica Risso
2023-03-31 12:55:30
2023-03-31 13:20:07
Lipid biosynthesis from oleaginous yeast